Brother Spotlight: Brother Sangeetha Nair
Any fraternity, organization or group of people need someone with the qualities Brother Sangeetha brings to the table.
She possesses the confidence and perseverance needed for her studies and everything beyond. her resume continues to grow every semester with academic accomplishments, case competition awards, and philanthropic efforts. During her pledging process, she took on the role of vp of finance for phi class and worked closely with fundraising activities. She has also spent over 12 years in competitive dance and is still going strong! Her welcoming presence brings people together and she reminds all of us of the good in life. sangeetha continues to be a great addition to the Eta Rho Chapter and we're grateful to call her a Brother of eta rho!
WHAT MADE YOU WANT TO JOIN AKPSI?
My Freshman year I saw a group of people in the library just sitting and talking to each other every day. I saw people listening to each other, laughing, smiling, and from afar, I could tell everyone was enjoying the conversations they were having. I never saw anyone stressed or unhappy nor did I see that large table empty. Seeing this every day got me curious as to who they were and how it was even possible to form such a big group at UIC. Later I came to find out that the group I saw was Alpha Kappa Psi. I knew this was something I wanted to be a part of and by Spring 2018 semester, I became a Brother along with my Phi classmates.
WHAT IS YOUR FAVORITE AKPSI MEMORY?
This is a moment very near and dear to me. I was very stressed and frightened about a ritual, and the day before and the day of the ritual, Brother Ankit gave me a pep talk and I couldn't stop myself from tearing up. It was so moving and touching that honestly the only thing I had in mind during my performance were his words.
HOW HAS AKPSI CHANGED YOUR MINDSET TOWARDS YOUR SUCCESS ACADEMICALLY, PROFESSIONALLY, AND PERSONALLY?
Before AKPsi, I believed that in order to achieve success, you needed to have a certain level of skill and luck and work hard. This was a theory that I believed to be true from Malcolm Gladwell's Outliers. After being in AKPsi, it gradually started to change. For me, it's not just about hard work, skill, and luck. It's also about the growth you're showing during the process while also envisioning the end goal committing and improving yourself in all aspects whether it's academically, personally, and/or professionally. This way, you're building yourself a beautiful personality, confidence, motivation, persistence, and achievement.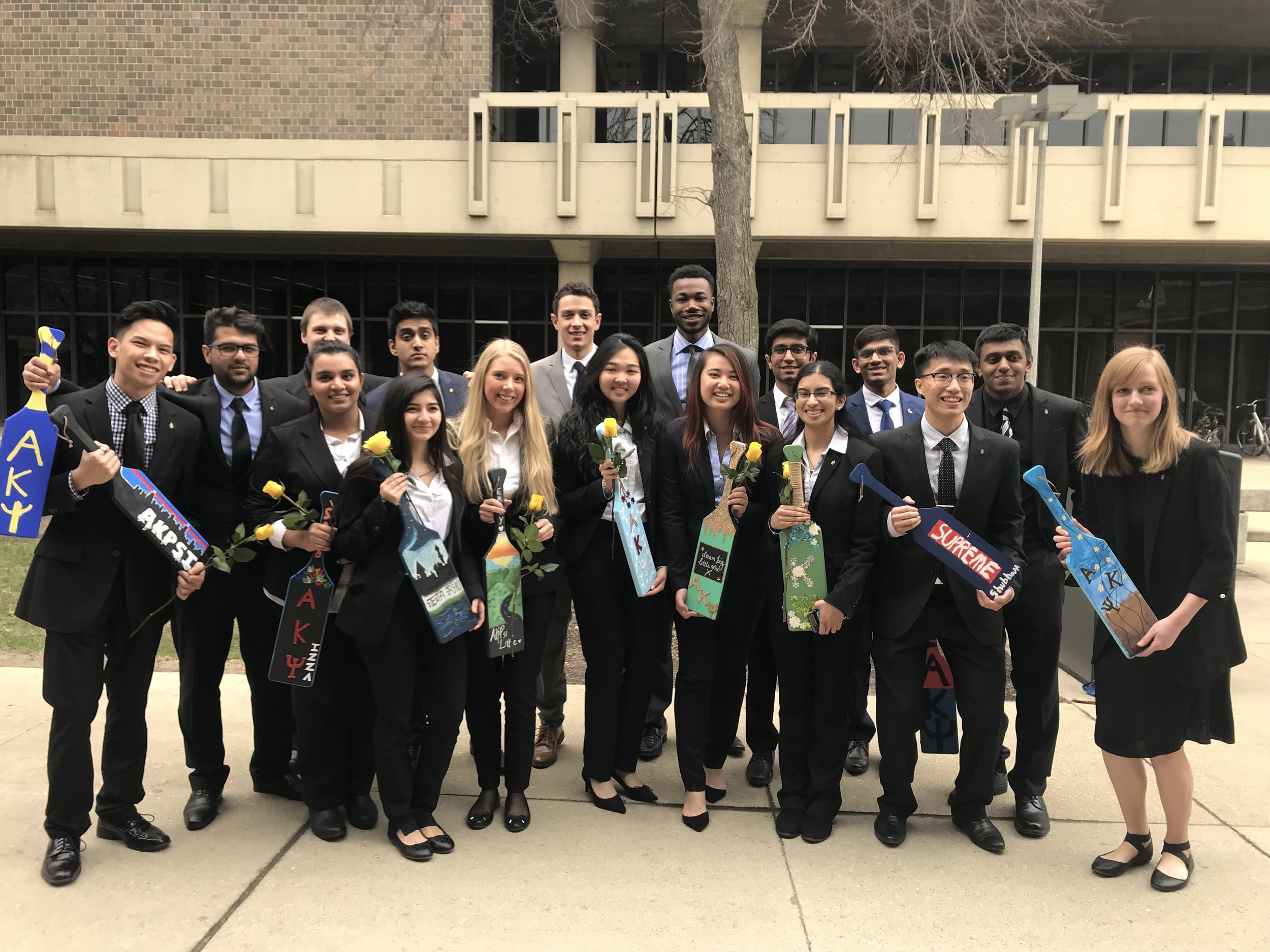 DO YOU HAVE ANY INTERNSHIP EXPERIENCE, OR ACCOMPLISHMENT YOU'RE PROUD OF?
AKPsi is shaping me into the person I want to become professionally. I won 1st place in the PwC Virtual Case Competition along with three Brothers: Brother Sean Spegar, Brother Ramesh Idnani, and Brother Megan Mehta.